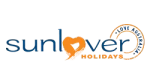 About Company
Proudly Australian owned, Sunlover Holidays brings decades of experience and knowledge to providing Australian holiday solutions for travel partners.
As one of Australia's largest distributors of domestic travel solutions, Sunlover Holidays delivers great-value travel products across a wide array of destinations for partners in all states and territories throughout Australia, New Zealand and the South Pacific.
Sunlover Holidays outstanding product, customer service and technology has seen it continually recognised by industry peers, being awarded Best Wholesaler – Australian Product by NTIA in 2016 and 2017.
Travel packages from Sunlover Holidays represent more than 500 Australian tourism operators and offer a diverse range of options including sightseeing attractions, car and campervan hire and cruises.