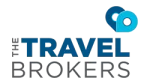 About Company
The Travel Brokers are one of New Zealand's largest approved travel-broker networks, consisting of more than 100 senior retail travel specialists located around the country.
With the flexibility to operate where and when it suits their customers, the Travel Brokers manage their own discerning client bases and hold both TAANZ & IATA accreditation. The team have extensive travel and consulting experience and are able to foster close relationships with both their clients and fellow team members, granting them access to a huge wealth of shared knowledge.
The Travel Brokers were established in May 2002 and benefit from wide-ranging experience managing travel for leisure, corporate, weddings and honeymoons, groups and conventions.